Starting in fiscal 2013, Kajima integrated its annual report, corporate profile and information on some aspects of corporate social responsibility into a single publication: Kajima Corporate Report. This booklet introduces a selection of CSR activities from fiscal 2012 that were not included in the Corporate Report.
A PDF of the CSR Report can be downloaded from the links below.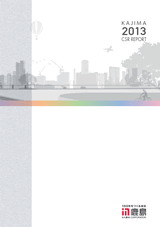 Entire Report
Download by chapters
Ensuring Compliance
Being a Company That People Are Proud to Work For
Providing Innovative Solutions for a Better Environment
Working with Local Communities
Communicating with Stakeholders

This symbol represents a PDF file.

Adobe Reader is required to download this file for viewing and printing.