Anticipating future trends in Japan's national energy policies, Kajima undertook nuclear-power-related work, beginning with the construction of the No. 1 reactor of the Japan Nuclear Power Research Center. The Company has subsequently been involved in approximately half of the nuclear-power-related construction projects in Japan.
Kajima also played a significant role in the establishment of many of the numerous steel mills, oil refineries, thermal power plants, and other heavy industrial plants that are concentrated along certain portions of Japan's coastline. The Company's special technological expertise related to large-scale docks, industrial complexes, and thermal power plants has been a key factor in supporting a rise in orders. In particular, the Company's construction technologies for large-scale docks have found increasing application overseas.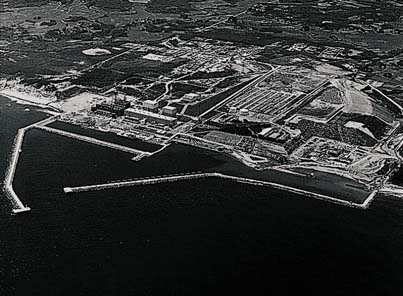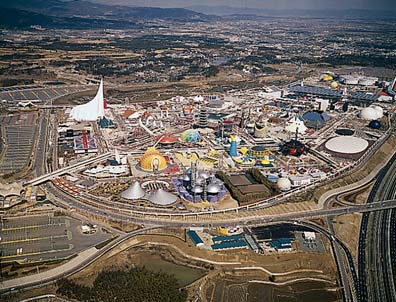 The international exposition held in Osaka in 1970 was accompanied by an upsurge in construction activity in the greater Osaka region. Kajima won contracts for pavilion construction and grounds preparation at the exposition site. Soon afterward, the Company was awarded contracts for the construction of a skating rink and other facilities used in the 1972 Winter Olympic Games, which were held in Sapporo, Hokkaido.
The upgrading of Japan's transportation network also progressed significantly during this period.
Kajima participated in many related projects, including the creation of three additional Shinkansen train lines as well as the first stage of construction for the New Tokyo International Airport at Narita. In the field of building construction, the Company was involved with the construction of such noteworthy buildings as those housing Japan's Supreme Court and the Ryogoku Kokugikan (the top venue for sumo bouts) and a number of ultrahigh-rise buildings in Tokyo's Shinjuku subcenter as well as the Ark Hills project and other large-scale multipurpose urban development projects.
In this period, a variety of ultralarge-scale and other national projects helped sustain positive economic trends in Japan as well as consolidating Kajima's position as a top general contractor with truly comprehensive capabilities.