Up until 2012, Kajima had published an annual report as its main financial report. Effective from this fiscal year, however, the Company has combined the annual report with its corporate brochure, and renamed it the Kajima Corporate Report. Accordingly, certain nonfinancial information deemed necessary to promote a broader understanding of Kajima Corporation among shareholders, investors, and stakeholders around the world has been included in this report.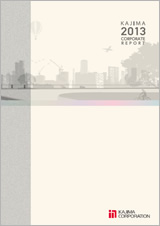 Entire Report
Download by chapters

This symbol represents a PDF file.

Adobe Reader is required to download this file for viewing and printing.