Kajima provides the client with consistent support from the project planning stage right through to the facility construction and operation stages by making the best use of advanced technology in the fields of process engineering, material handling, information system, industrial engineering, water treatment.
As the issues our customers face become more complex and difficult, it is necessary to create a new value through the integration of a wide range of technology and expertise.
The Engineering Division is dedicated to working mainly with the pharmaceutical, food and cosmetics facilities and will be committed to providing our clientele in Southeast Asia with the best possible engineering services.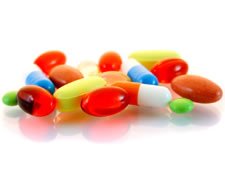 News & Topics
November 5, 2021


Kajima sponsors The 2nd Asian Conference for Plant Made Pharmaceuticals(PMPAsia2021)

Kajima sponsors PMPAsia2021 International Conference on Plant-Derived Biopharmaceuticals hosted by an executive committee of Japanese universities and public research institutions on November 9-10 (Japanese Time).
Plant Made Pharmaceuticals (PMP), which are pharmaceuticals (raw materials) produced in plants using genetically modified technologies, have received increasing attention in recent years from the viewpoint of their safety and carbon neutrality. Kajima has focused on this technology for more than 15 years and has been conducting research and development from the point of view of institutional engineering.
This time, the International Conference on Plant-Derived Biopharmaceuticals PMPAsia2021 will be held in Japan, and Kajima will cooperate. At the conference, researchers related to human and veterinary PMP and other useful materials, as well as basic technologies, will be brought together from domestic and overseas and foreign countries to present the latest research results and practical applications in the field, and to exchange opinions among participants.
International conference website : PMPAsia 2021 (u-tokyo.ac.jp)
Introduction to technology related to KAJIMA'S PMP manufacturing plants. : KAJIMA'S PMP FACTORY ENGINEERING(PDF: 892KB)
April 28, 2021


Kajima co-sponsors global webinar on human induced pluripotent stem cells (hiPSC) held by ISCT

Kajima co-sponsored a global webinar entitled "Reprogramming hiPSC and Differentiation" presented by the Foundation for Biomedical Research and Innovation at Kobe (FBRI, Japan) and the Agency for Science, Technology and Research (A*STAR, Singapore) on March 25 (UTC – 7). The Webinar was held by the International Society for Cellular Therapy (ISCT, Canada). ISCT is a global society of clinicians, regulators, technologists, and industry partners who share the vision of ensuring that cell and gene therapies become safe, effective treatments for improving patients' lives.

Organizer's website : www.isctglobal.org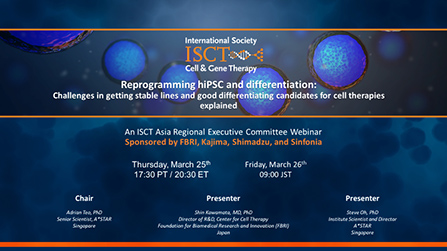 August 28, 2020


Kajima Exhibits and Holds Seminar at the 7th Biologics Manufacturing Asia 2020 Convention

Kajima exhibited and held a seminar at the Biologics Manufacturing Asia 2020, a convention focusing on the fields of biopharmaceutical and cell & gene therapy that brings together major pharmaceutical companies and academic leaders from Europe, the United States, Japan, and all over Asia.

Due to the influence of COVID-19, this year, the conference was held virtually for the first time in its 7-year history, using an event platform application. At the virtual booth and the seminar, Kajima introduced its activities and newly developed technologies, including its original BUSTER MINITM continuous heating type inactivation wastewater processing system. BUSTER MINITM sterilizes and inactivates microorganisms and viruses. Moreover, it features a streamlined footprint to meet the needs of mainstream biopharmaceuticals and small-scale facilities like laboratories.

Following the exhibition in 2018, Kajima was awarded the "Asia-Pacific Bioprocessing Excellence Award 2020: Engineering & Facility Design," recognizing it out of a field of many other engineering companies as a company that had made important contributions to the field of biopharmaceutical manufacturing.

Seminar dates: July 7 and 8, 2020
Booth open: June 7 to July 31
Kajima's streaming seminar: July 8
Virtual exhibition platform application: Whova
Organizer: IMAPAC PTE LTD, Singapore
March 29, 2018


Kajima exhibited at the "Biologics Manufacturing Asia 2018" convention in Singapore

Kajima ran a booth at the "Biologics Manufacturing Asia 2018" convention in Singapore. The convention was held at the Suntec Singapore International Convention & Exhibition Centre from January 30 to February 1, and attended by lots of industry stakeholders from leading pharmaceutical companies across Europe, the USA, Asia, and Japan.

At the event, Kajima introduced its biopharmaceutical-related technologies including the modular facility system, which integrates Kajima's various cutting-edge technologies in the fields of process equipment, utilities, and HVAC systems, and delivered an official seminar presentation as well.

Kajima thus received the "Best Bioprocessing Supplier Award: Engineering & Facility Design" as an engineering company contributing to the biopharmaceutical manufacturing industry.
January 26, 2018


Kajima reinforces engineering services in Asia

On January 2, 2018, Kajima Overseas Asia Pte Ltd (KOA), the local Asian subsidiary of Kajima Corporation, acquired the majority of outstanding shares of International Facility Engineering Pte. Ltd. (IFE), an engineering company in Singapore.

IFE was established in 2007 and is headquartered in Singapore, from which it provides design and EPCM* services for manufacturing facilities throughout the Asian region, including Malaysia, China, Thailand and Myanmar, in addition to Singapore. The company specializes in the engineering needs for the manufacturing facilities of enterprises utilizing advanced technologies such as pharmaceutical products, semiconductors and electric/electronic devices.

The Engineering Division of Kajima Corporation has assigned specialized staff in Singapore and has been involved in marketing activities to strengthening its engineering business in the Asian region since 2014.

From now on, the corporate group will promptly establish a cooperative system that provides the clients with high-quality engineering services in the fields such as pharmaceutical and food products.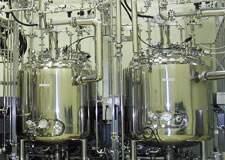 Pharmaceutical, Food and Cosmetics Facilities
Our engineering prowess contributes to realizing the ideal facilities for pharmaceutical, food and cosmetics production needs.
Kajima collaborates closely with the client to create an optimal system that ensures efficient project management where all requirements for the production facilities are met during the construction process.
Material Handling/Automation
Automation systems contribute to realizing labor savings in production processes, preventing mistaken operations, improving conveyance/warehousing processes, and preventing employee exposure to hazardous substances, etc.
Advanced Laboratory for Plant-Made Pharmaceuticals
The center of "National Institute of Advanced Industrial Science and Technology Hokkaido" that we designed and constructed in 2007 is "closed-type genetically modified plant laboratory". Because it has a special feature to extract the active substance which is a raw material of pharmaceuticals from genetically modified plants, it was a new challenge as advanced technical skills are required. This new challenge significantly brought our engineering skills to higher level.

Kajima Original Modularization Technologies
The Engineering Division of Kajima Corporation developed the advanced modularization technologies specialized in the construction and renewal of biopharmaceutical R&D and manufacturing facilities.
Kajima utilizes various modularization technologies to realize the construction of facilities that operate with enhanced flexibility, promote and ensure quality assurance and shorten the time required to build biopharmaceutical manufacturing facilities.
Once built, these facilities are capable of flexibly and quickly responding to various needs, such as manufacturing room expansion, downsizing, changing/moving partitions, etc. that accompany increasing product capacity, product switching and more.
IE (Industrial Engineering)
IE methods are utilized to provide efficient production and logistics facilities. These methods can also be applied to ensure the best possible results when renovating existing facilities.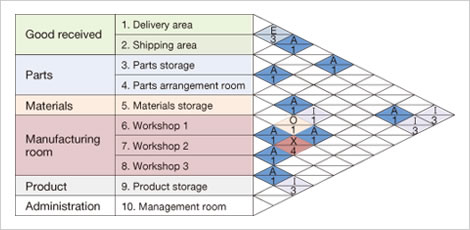 Hazard Prevention Measures
Simultaneously utilizing building construction measures such as defined zoning, flow planning and room pressure control together with measures for production machinery, cross-contamination and hazardous substance contamination can be prevented. Cutting-edge technologies for containing highly active substances are also incorporated.
Water Treatment Technology
Strict management is required in the construction of the system utilized to supply water for pharmaceutical products and to treat wastewater from pharmaceutical production processes. Semi-closed water systems that contribute significantly to reducing water supply and discharge processes help to reduce production cost.

Kajima's extensive know-how and advanced engineering tools provide strong support for client requirements and requests beginning from the planning phase.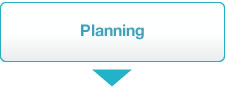 Kajima creates facility plans that focus on total optimization in response to specific requirements.
Kajima's cutting-edge technologies and vast network contribute to resolving problems that arise during a project.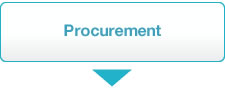 Kajima's extensive overseas procurement network works to ensure the close management of quality, cost and scheduling.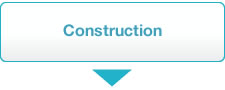 Kajima's careful management of construction and production systems ensures that the highest levels of quality and safety are achieved while minimizing the construction period.
Kajima provides support in all areas to ensure smooth facility start-up, from quality assurance after test operation and validation, maintaining standard operating procedures and implementing sanitation systems to the manufacturing double-blind trial stage.
Even after handing over the project, Kajima assists factory operations by providing diversified after-construction services such as machine operator training and other activities related to production including line changes/renovations and extensions.
EP/CM Services
Kajima provides comprehensive services in the form of an engineering, procurement and construction management (EP/CM)contract.
Under the EP/CM contract, Kajima participates in projects as an owner consultant on a fee basis. We will develop basic facility plans, support the owner when selecting the design firm and contractors, and provide construction management services.