Kajima provides the client with consistent support from the project planning stage right through to the facility construction and operation stages by making the best use of wide spread technology in the fields of process engineering, material handling, information system, industrial engineering, water treatment.
As the issues our customers face become more complex and difficult, it is necessary to create a new value through the integration of a wide range of technology and expertise.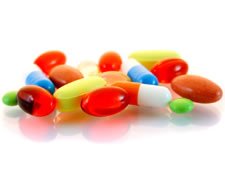 News&Topics
On 1st of October 2014, Engineering Division newly opened the representative office registered in Singapore.
The Engineering Division is dedicated to working mainly with the pharmaceutical, food and cosmetics facilities and will be committed to providing our clientele in Southeast Asia the best possible engineering services available.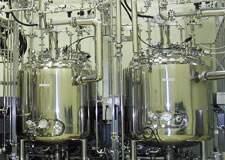 Pharmaceutical, Cosmetics Facilities
Our engineering prowess contributes to realizing the ideal facilities for pharmaceutical ,food and cosmetics production needs.
Kajima collaborates closely with the client to create an optimal system that ensures efficient project management where all requirements for the production facilities are met during the construction process.
Material Handling/Automation
Automation systems proposed contribute to realizing labor savings in production processes, preventing mistaken operations, improving conveyance/warehousing processes, preventing employee exposure to hazardous substances, etc.
Advanced Laboratory for Plant-Made Pharmaceuticals
The center of "National Institute of Advanced Industrial Science and Technology Hokkaido" that we designed and constructed in 2007 is "closed-type genetically modified plant laboratory". Because it has a special feature to extract the active substance which is a raw material of pharmaceuticals from genetically modified plants, it was a new challenge as advanced technical skills are required. This new challenge significantly brought our engineering skills to higher level.

IE (Industrial Engineering)
IE methods are utilized to provide efficient, highly effective production and logistics facilities. These methods can also be applied to ensure the best possible results when renovating existing facilities.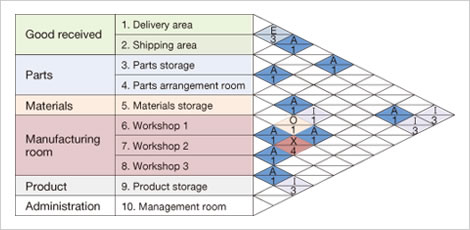 Hazard Prevention Measures
Simultaneously utilizing building construction measures such as defined zoning, flow planning and room pressure control together with measures for production machinery, cross-contamination and hazardous substance contamination can be prevented. Cutting-edge technologies for containing highly active substances are also incorporated.
Water Treatment Technology
Strict management is required in the construction of the system utilized to supply water for pharmaceutical products and to treat wastewater from pharmaceutical production processes. Semi-closed water systems that contribute significantly to reducing water supply and discharge processes help to reduce production cost.

Kajima's extensive know-how and advanced engineering tools provide strong support for client requirements and requests beginning from the planning phase.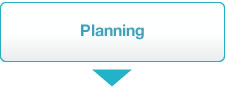 Kajima creates facility plans that focus on total optimization in response to specific requirements.
Kajima's cutting-edge technologies and vast network contribute to resolving problems that arise during a project.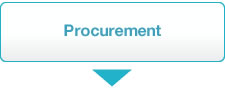 Kajima's expansive overseas procurement network works to ensure the close management of quality, cost and scheduling.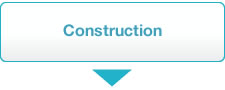 Kajima's careful management of construction and production systems ensures that the highest levels of quality and safety are achieved while minimizing the construction period.
Kajima provides support in all areas to ensure smooth facility start-up, from quality assurance after test operation and validation, maintaining standard operating procedures and implementing sanitation systems to the manufacturing double-blind trial stage.
Even after handing over the project, Kajima assists factory operations by providing diversified after-construction services such as machine operator training and other activities related to production including line changes/renovations and extensions.
EP/CM Services
Kajima provides comprehensive services in the form of an engineering, procurement and construction management (EP/CM)contract.
Under the EP/CM contract, Kajima participates in projects as an owner consultant on a fee basis. We will develop basi facility plans, support the owner when selecting the design firm and contractors, and provide construction management services.