Integrated Report 2023
This is issued as a communication tool to aid in constructive dialog with our stakeholders.
PDF Download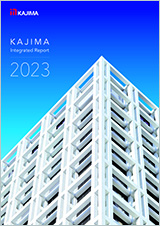 Full page batch download
Download by chapters
Part3 Implementing Medium-Term and Long-Term Growth Strategies(PDF: 8.51MB)
Feature Story 01 Taking Construction Processes to the Next Level

Developing Technologies and Knowledge to Address the Growing Demand for Renewable Energy
Tackling the Need to Update Aging Infrastructure

Feature Story 02 Enhancing the Construction Value Chain

Our Unique Construction Value Chain

Feature Story 03 Overseas Operations

Strategies of KUSA, the Kajima Group's Growth Driver
Part4 Business Overview and Outlook(PDF: 4.67MB)
Civil Engineering
Building Construction
Real Estate Development
Domestic Subsidiaries and Affiliates
Overseas Operations
Part5 Strengthening the Foundation that Supports Sustainable Growth - ESG Initiatives(PDF: 6.05MB)
Research & Development and Intellectual Property Management
Focus Strengthening the Future Foundation

1 DX of Kajima
2 Evolving Seismic Damping Technology

Human Resources Strategy
Focus Investment in Human Capital

1 New Facility for Practical Experience and Hands-on Training
2 Development of Skilled Workers
3 Work-Style Reforms at Construction Sites

Sustainability Promotion System
Environment
Quality
Occupational Safety and Health
Human Rights and Supply Chain Management
Dialogue with Outside Directors
Corporate Governance
Risk Management
Compliance
Officers
10-Year Highlights(PDF: 427KB)
Principal Subsidiaries and Affiliates(PDF: 579KB)
Social Contribution Activities(PDF: 657KB)
Company Information(PDF: 440KB)
Stockholder Information(PDF:434KB)
Achievements of Major IR Activities(PDF: 817KB)
Financial Review(PDF: 3.01MB)

This symbol represents a PDF file.

Adobe Reader is required to download this file for viewing and printing.