SDGs and Kajima's Business Operations
Under our corporate philosophy of "as a group of individuals working together as one, we pursue creative progress and development founded on both rational, scientific principles and a humanitarian outlook, through which we strive to continually advance our business operations and contribute to society," the Kajima Group aims to be a corporate group that can play an essential role in society and grow in a sustainable fashion through addressing social and environmental problems including the SDGs.
Seven Material Issues
We look at social and environmental problems and identify material issues to take priority in addressing in order to increase corporate value and achieve sustainable growth together with society. Our initiatives for resolving social issues through business activities ultimately contribute to the SDGs.
Society
1
Creating functional urban, regional
and industrial infrastructure capable of
meeting new needs
2
Developing sustainable and
long-lasting social infrastructure
3
Providing technologies and services for disaster
preparedness that support safety and security
Environment
4
Contributing actively to
society's transition
to a carbon-free footprint
Platform for Business Sustainability
5
Focusing on unwavering technological innovation
and Kajima quality
6
Construction that
emphasizes people
and partnerships
7
Practicing corporate ethics
Examples of Our Initiatives
1
Society
Creating functional urban, regional
and industrial infrastructure capable of meeting new needs
Social Issues: Revitalizing Local Communities, Responding to Changes in Work-Styles, Increasing Sophistication of Urban Functions
Urban Development to Create New Experiences and Value
by Combining the Cutting Edge with Culture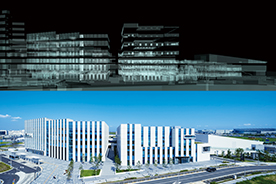 Haneda Mirai Kaihatsu Co., Ltd., a company represented by Kajima, is building and operating Haneda Innovation City (HICity), a commercial and business complex that has a total floor area of over 130,000 square meters and is directly connected to Tenkubashi Station, which is only one stop from Haneda Airport Terminal 3. It aims for the building and operation of a commercial and business complex that houses a wide variety of tenants, such as research and development facilities, an advanced medical research center, event halls, Japanese cultural experience facilities, and restaurants, on a huge plot of land near a gateway to Japan. It promotes urban development to create and spread future-oriented experiences and value as a base to drive both advanced industrial activity and the Cool Japan concept, with the goal to become Japan's first smart airport city.
(SDG targets: 9-4, 11-3)
Creating a Safe, Secure, and Comfortable Space for Everyone to Use
Build and create facilities, information, and services that are easy to use and understand for everyone. This concept is the essence of Kajima's approach to universal design. Built on the three pillars of "technology that always ensures safety and security," "space that is easy to understand for anyone," and "building construction that is easy to use in every way," our approach is highly acclaimed by many. We proposed a city vision titled "Inter-Scape—environmental technology for connection through the five senses—" at an engineering competition held by the Architectural Institute of Japan in fiscal 2017 and won the grand prize.
(SDG target: 11-3)
2
Society
Developing sustainable and long-lasting social infrastructure
Social Issues: Maintaining and Renewing Social Infrastructure
Restoration Technology to Enhance Dam Functions and Extend Life-spans
In light of frequent floods and landslides as well as water shortages resulting from global warming, many are paying attention to dam restoration as a way to utilize existing dams. Starting by raising the Mikawa Dam (Hiroshima Prefecture) body in 1974, Kajima worked on dam redevelopment projects for 37 dams (as of March 2018), including the Sannokai Dam (Iwate Prefecture, completed in 2001) and the Ikari Dam (Tochigi Prefecture, completed in 2003). Striving for a wealth of experience and comprehensive capabilities while driving technological development, we contribute to mitigating floods and water shortages as well as utilizing renewable energy.
(SDG target: 9-1)
Seismic Damping and Upgrading for the Continued Use of Buildings
Japan is a seismically active country, though many skyscrapers lack seismic damping capabilities and are vulnerable to large and prolonged vibrations caused by long-period earthquakes. This ultimately contributes to a practice of scrapping and rebuilding structures, but this problem can be solved by a technology known as D3SKY (Dual-direction Dynamic Damper of Simple Kajima stYle)®, an extremely large version of a TMD.
This technology mitigates vibrations throughout an entire skyscraper by installing a huge pendulum-shaped weight on the roof. It marks a breakthrough in that it does not ruin the view or reduce effective floor space because the equipment is installed on the roof. Also, it has less impact on tenants because installation is not carried out inside the building.
We will make it possible to use buildings safely and comfortably for a prolonged period using this technology, thereby contributing to maintaining social infrastructure in future years.
(SDG target: 11-11b)
3
Society
Providing technologies and services for disaster preparedness
that support safety and security
Social Issues: Improving Disaster Preparedness and Resilience, Increasing Sophistication of Disaster Preparedness Measures, Supporting Disaster Recovery
Supporting Customers' BCPs in Both Physical and Digital Aspects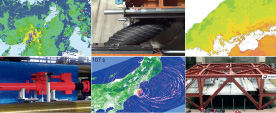 Apart from threatening people's lives, natural disasters also have an enormous impact on business activities. To address the task faced by companies and society in preparing an appropriate business continuity plan (BCP), Kajima has formed a BCP and risk management team at Kajima Technical Research Institute. We offer unique assistance measures based on its wealth of advanced expertise in both physical and digital aspects, allowing organizations to visualize disaster risks, make preparations for disasters, and carry out safe and speedy evacuation and recovery measures.
(SDG target: 11-11b)
Disaster Recovery—A Mission for the Construction Industry
Torrential rains caused by Typhoon No. 19 in 2019 resulted in large-scale flooding in the Chikuma River within Nagano Prefecture. In response to this emergency, Kajima repaired the embankments of the Chikuma River safely and swiftly in cooperation with local construction companies. Disaster response is the primary responsibility of the construction industry. For repair work to be completed as early as possible, we demonstrated our advanced disaster response capabilities through the full use of ICT tools, such as drones and web cameras.
(SDG targets: 11-5, 13-1)
4
Environment
Contributing actively to society's transition
to a carbon-free footprint
Social Issues: Responding to Climate Change, Promoting Efficient Energy Use and Ensuring a Stable Supply of Energy, Ensuring Biodiversity, Promoting Resource Recycling
Renewable Energy Initiative
In March 2020, Kajima commenced full-scale construction of offshore wind power generation facilities at Akita Port and Noshiro Port in a joint effort with Sumitomo Electric Industries. This is the first project in Japan in which private companies carry out development and commercialization from the planning stage onward on a commercial basis. This project involves the construction of 33 new wind turbines that generate approximately 140 MW in total, the largest capacity seen in Japan, in the port areas at Akita and Noshiro. Since the geotechnical investigation and design development phase, we have been actively engaged in the project and worked on the engineering, procurement, construction, and installation (EPCI) of foundations and submarine cables. The project is planned to be completed in 2022.
(SDG targets: 7-2, 13-1)
Successful Development of CO2-SUICOM, Sustainable and Eco-friendly Concrete that Reduces CO2 Emissions to Zero or Below
When considering the volume of CO2 emitted during cement and rebar production and other processes, the civil engineering and building industries in Japan account for one fourth of the total volume of CO2 emissions in all industries. CO2-SUICOM technology enables concrete to absorb and store CO2 in the process of hardening. As it absorbs more CO2 than that generated when producing the cement used as a raw material, the production of CO2-SUICOM helps reduce the amount of CO2 in the atmosphere.
(SDG targets: 9-4, 13-1)
5
Platform for Business Sustainability
Focusing on unwavering technological innovation
and Kajima quality
Social Issues: Assuring and Improving Quality
ICT-Based Next-Generation Smart Production System
To address the shortage of construction workers and achieve work-style reforms, Kajima has launched the Kajima Smart Future Vision, helping to promote transformation of all construction-related production processes and increase productivity. With its core concept of "half of the work performed by robots," "half of project management done remotely," and "digitalization of all processes," we want to make the construction industry more appealing and inspiring.
(SDG targets: 11-3, 12-5)
Full-Scale Operation of A4CSEL®, a Solution for Automated Construction Sites,
in Naruse Dam Construction Work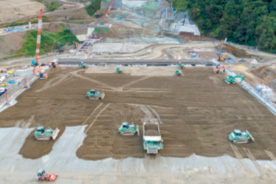 The construction industry is labor-intensive and relies heavily on individual workers' skills and experience. There is also an issue in that the number of young employees is decreasing while the population of skilled engineers is aging. To solve these problems, Kajima is developing a new production system using advanced technologies including AI and ICT. A4CSEL® ("quad axel"), a next-generation construction machinery automation system, is the world's first technology that enables multiple construction machines to autonomously make decisions and execute automated construction simply based on work commands issued from the control room.
(SDG targets: 11-3, 12-5)
6
Platform for Business Sustainability
Construction that emphasizes people and partnerships
Social Issues: Increasing Labor Productivity, Improving Employment Conditions for Skilled Workers, Nurturing Human Resources, Strengthening Partnerships, Ensuring Occupational Safety, Championing Diversity
Establishing the Kajima Partner College with the Aim
of Nurturing the Human Resources of Partner Companies
In the construction industry, personnel shortages are predicted as a result of a decreasing number of young employees and the aging population of skilled workers. As such, there is a pressing issue in securing the next generation of workers. Kajima founded the Kajima Partner College in order to nurture the human resources of partner companies and will open it in April 2021. This college aims to nurture future Kajima Meisters* and executive candidates into human resources that have a broad perspective and leadership so that they can not only take a comprehensive view on their jobs and construction work, but also construction sites, their companies, and the construction industry as a whole.
(SDG target: 8-5)
* The title for our outstanding foremen, as well as our registration and direct financial incentive system for them
Diversity & Inclusion
Efforts to build a workplace environment where female employees can work at ease lead to the creation of a workplace environment where all employees can work at ease, regardless of gender. Kajima is making positive efforts to promote active roles for women as part of initiatives to achieve diversity and inclusion. We began to place many more fresh female graduates on the managerial track starting in 2006, and so more and more employees that joined Kajima around this time are now being promoted to managerial posts and are achieving success on a new stage.
(SDG target: 5-5)
7
Platform for Business Sustainability
Practicing corporate ethics
Social Issues: Conducting Fair Business Practices, Ensuring Compliance,
Respecting Human Rights
Conducting Fair Business Practices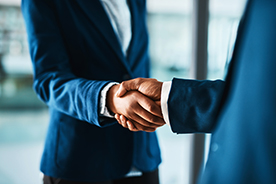 Kajima promotes fair and honest corporate activities by practicing thorough compliance and risk management. Each employee and director of the Group acts ethically and earns the trust of customers and society through initiatives in all parts of the supply chain.
(SDG target: 16)
About the SDGs
Seventeen Goals to Change the World
The Sustainable Development Goals (SDGs) were adopted by the United Nations (UN) in 2015. The 193 UN member countries all aim to achieve the SDGs within the 15-year period from 2016 to 2030. In other words, the SDGs represent tasks that all the people on Earth should work on. The preamble to the 2030 Agenda for Sustainable Development states, "This Agenda is a plan of action for people, planet and prosperity," and this document sets forth the 17 Sustainable Development Goals and 169 targets to achieve within the 15-year period from 2016 to 2030.