Approaches to Plastic Issues
In the construction industry, plastic is often used for construction materials and packing supplies. To reduce the final volume of plastic going to landfill waste, Kajima is working to reduce and separate plastic waste. We are also promoting the recycling of helmets, work clothes, and other consumables by collecting them in a systematic manner.
Recycling Helmets
Helmets used at construction sites need to be replaced regularly for safety reasons. Kajima has worked to recycle these helmets since 2004.
We collect helmets sold by TAIKO TRADING CO.,LTD, a member of the Kajima Group, as trade-ins when they become unwanted. When they joined the Japan Helmet Manufactures Association Recycle Center, the system became easy to implement at construction sites.
After helmets are collected from Kajima construction sites, the Japan Helmet Manufactures Association removes the chin-straps and other parts, and then the helmets are crushed and reused as raw material and fuel for the cement-making process.
Approximately 3,000 helmets are collected and recycled every year, resulting in a reduction of approximately 3,090 kg in CO2 emissions as compared to being disposed of as landfill waste.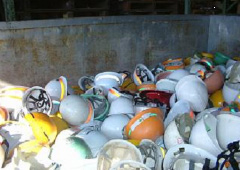 Recycling Work Clothes
From the perspective of durability and other aspects, Kajima uses polyester-cotton blend fabric for the work clothes worn by Kajima employees. Kajima also recycles work clothes just like helmets.
This recycling system was built by the Ecological Life and Culture Organization using the national permit system. Kajima has participated in this recycling system since 2010.
Work clothes collected from construction sites and the administration department are recycled into car interior materials and waterproof materials for roof backing through designated recycling factories.
At present, approximately 6,500 articles of work clothes are recycled every year.
In FY2014, our results in this area gained recognition, and we received the Award for Promoting the Creation of a Recycling Society 2015 from the Ecological Life and Culture Organization. This made us the first laureate among general contractors.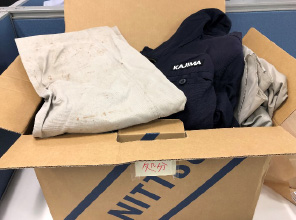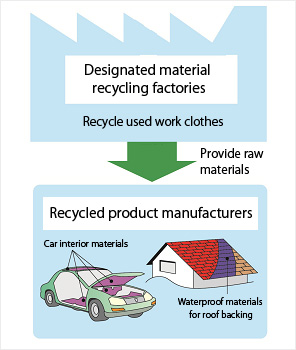 Restoring Coral Reefs Using a Biodegradable Plastic
Kajima has worked on technology development for coral reefs over many years, and in one study we are using "Coral Net" biodegradable plastic developed in collaboration between Dainippon Plastics and Kajima.
Coral naturally clings to the back of the "Coral Net" base, and then this coral moved to bedrock where it takes root within a year. The biodegradable plastic base dissolves in six to seven years, leaving only the coral.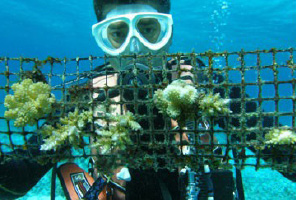 Donating Plastic Bottle Caps
Kajima has been working to donate and recycle plastic bottle caps since 2009. At the Head Office buildings in Akasaka, the Kajima Technical Research Institute, branch offices, and construction sites, plastic bottle caps are separated in a thorough process for donation when bottles are discarded.
This activity was initiated to give donations for a vaccine program, and this helped establish the practice of separating caps and labels when throwing bottles in the trash.
Thanks to the cooperation of the bottle cap piggy bank network, it is possible to check records at the Head Office secretariat even if caps are sent directly from branch offices and construction sites.
The annual amount of caps collected nationwide for recycling is approximately 300 kg (roughly 129,000 bottle caps), resulting in a reduction of approximately 945 kg in CO2 emissions compared to incineration.