Policy on Safety and Health, the Environment, and Quality
System for the Integrated Management of Safety and Health,
the Environment, and Quality
In April 2003, Kajima integrated several separate policies on safety and health, the environment, and quality in order to carry out activities under a new common basic policy. We as a whole have received the Construction Occupational Health and Safety Management System (COHSMS) certificate with regard to safety and health and the ISO 14001 certificate with regard to the environment. With regard to quality, our civil engineering and building construction businesses both conform to ISO 9001.
In this light, our construction business has deployed a management system that integrates three types of management in our civil engineering and building construction operations. This system will bring an overall improvement in production efficiency in each construction site, leading to an improvement in overall quality, and making it possible to meet societal and customer needs at an even higher standard.
Safety and health
Kajima implements safety and health management in conformance with the Construction Occupational Health and Safety Management System (COHSMS). We follow a PDCA cycle of reviewing our safety and health policies as necessary based on the performance and circumstances of the previous fiscal year, and then formulating Company-wide safety and health targets and plans for the current fiscal year. Starting from the Company-wide policies formulated through this cycle, we narrow down the range of issues to determine the priority items to be implemented at individual construction project offices as well as those for the Head Office, branches and partner companies supporting them.
We then use these items as a foundation for establishing construction safety and health policies, targets, and plans for each construction site, to be shared with partner companies in carrying out construction work. In addition, by focusing on actual workplaces, equipment, and site conditions we will keep improving safety and health levels.
Environment
Kajima operates environmental management systems (EMS) that are compliant with ISO 14001. The Environment Committee is headed by the President and implements initiatives in each of five sectors: civil engineering, building construction, environmental engineering, engineering, and research and development. Four subcommittees address environmental management, construction environments, sustainable procurement, and biodiversity as cross-sector issues, and working groups are also organized for issues such as the Act on the Rational Use of Energy and plastics.
For domestic Group companies, we are surveying and gaining an understanding of the energy consumption of 14 construction-related companies and 2 development-related companies that have particularly high environmental impact.
Environmental Management System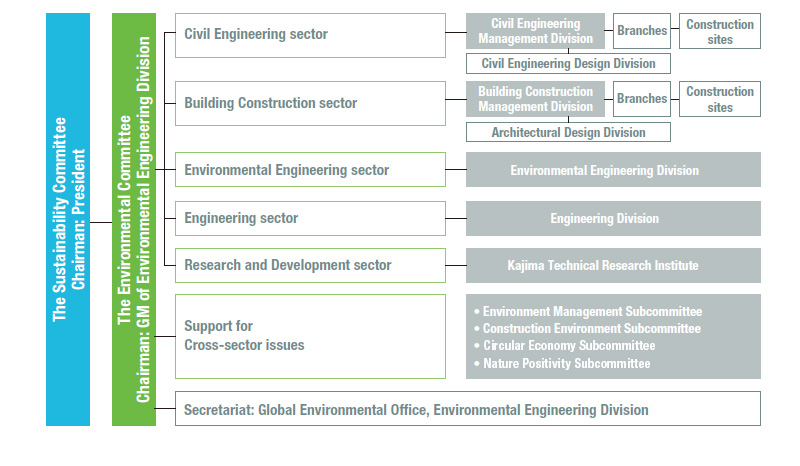 In fiscal 2019, we identified the material issues at the Kajima Group in order to solve SDG-related problems. In particular, we spent approximately six months considering areas related to climate change that have a significant impact on business activities, such as "responding to carbon tax and emission allowance regulations," "responding to intensification of extreme weather events," and "developing technologies for new markets and climate change," in the "Support Program for Climate Risk / Opportunity Assessment and Scenario Analysis in line with TCFD (Task Force on Climate-related Financial Disclosures) Recommendations" of the Ministry of the Environment. Based on this, our "Risks and Opportunities" for fiscal 2020 were reviewed and then approved at a meeting of the Environment Committee in fiscal 2019.
Quality
Kajima has received ISO 9001 certification in both its civil engineering and building construction businesses and has been managing quality accordingly. These qualifications cover relevant Head Office departments, the Technical Research Institute, the Architectural Design Division, and branches. The civil engineering and architectural construction business are implementing their own management systems and have both prepared manuals and implementation guidelines.
Kajima thinks that the first step of general quality control is focusing on the workplace, equipment, and site conditions. We classify the items that our employees should check and the items that our partners should implement; we carry out measurements and other forms of inspections and checks based on Kajima's own standards that are stricter than the relevant laws and regulations; and we make records as needed. These inspections and checks are reviewed from the perspectives of the workplace, equipment, and site conditions not only at construction sites, but also by related departments of the Head Office and branch offices, thereby promoting reliable quality assurance.
Ten Lessons About Safety, Health and Environment