History of
Kajima's Overseas Operations
Kajima's rich history of overseas operations started in the latter half of the 19th century,
building railway infrastructures in Taiwan.
Today, we operate in North America, Asia-Oceania, and Europe
and have become Japan's leading global contractor and real estate developer.
Although our challenges continue,
we like to take a moment to present a brief history of Kajima's overseas business.
Our "original" project
- Little Tokyo, Los Angeles
Kajima's history of overseas construction and real estate development business started in the 1960s when Kajima International, Inc. (KII) was established in 1964 to redevelop Little Tokyo in downtown Los Angeles. Over time, Kajima expanded its overseas business operations by establishing offices in Europe and Southeast Asia in the 1970s.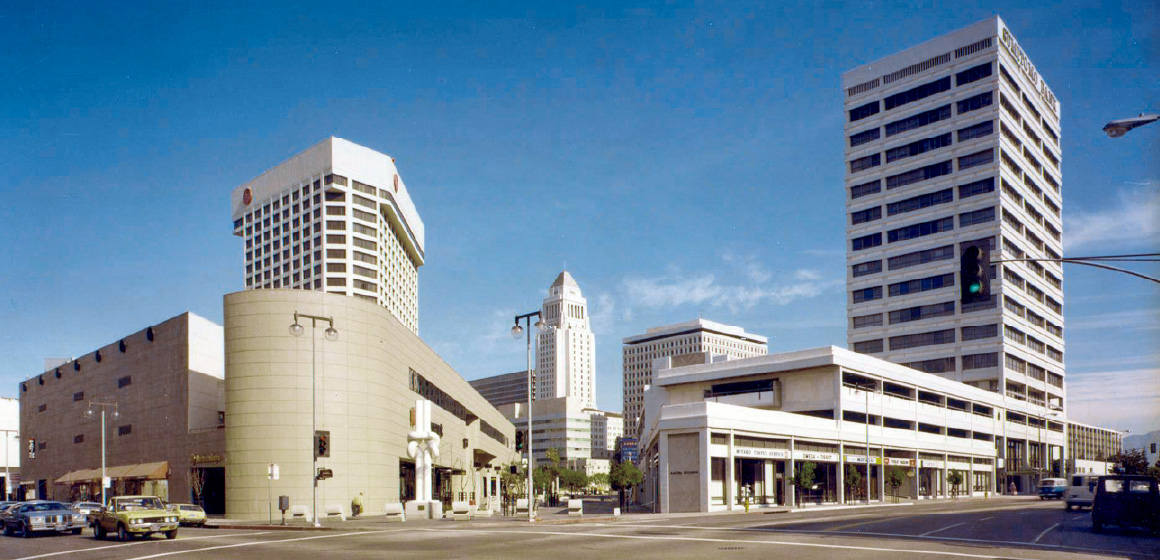 Construction
Business
Real Estate
Development
Business
History of Overseas Construction Business
North America
At first, our construction business in North America was a modest one that focused solely on design work. However, as the number of Japanese companies in the West coast grew, the demand for construction work increased, and Kajima gradually diversified its business into construction business.
In the 1970s, our U.S. headquarters was relocated from Los Angeles to New York as Japanese companies expanded their operations to the East coast. Subsequently, we opened offices in several major U.S. cities, including Atlanta, Chicago, and Dallas. Since 1985, when investment from the Japanese automobile industry began to accelerate rapidly, Kajima successfully completed work on automotive assembly plants for Mazda/Ford, Mitsubishi Motors/Chrysler, Subaru/Isuzu, and constructed many plants for automotive parts suppliers.
In the 1990s, as Japanese investment declined, Kajima was one of the first Japanese contractors to localize its operations. During this time, the effectiveness of Japanese construction management techniques was recognized, and the number of contracts from major U.S. companies gradually increased.
Since 2000, as the IT industry in the United States rapidly grew, we built many data centers and mission-critical facilities around the country. In parallel to this, Kajima also worked on developing and constructing large-scale distribution warehouses called "big boxes" with the rapid growth of e-commerce.
We operate construction and real estate businesses through subsidiaries, including leading U.S. companies that became part of the Kajima Group through mergers and acquisitions. Kajima U.S.A. group companies provide construction-related services in a wide range of markets, including manufacturing, logistics, offices, housing, hotels, and hospitals, serving both U.S. and international clients from around the world.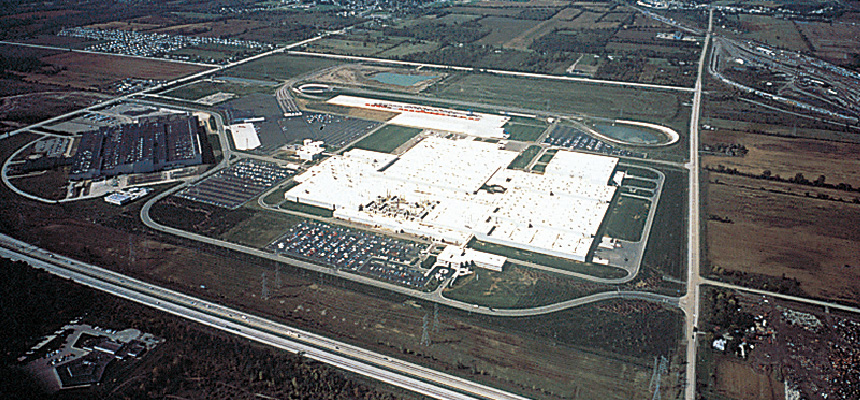 Asia and Oceania
Kajima started its construction business in Asia in the 1960s with a shipyard project in Singapore. Later, we also ventured into constructing office buildings, hotels, houses, and factories, besides civil engineering projects such as power plants and dams.
In the 1980s, our construction business in the Southeast Asia grew as many companies from the electrical, machinery, and automobile industries and their suppliers invested in the Asian market. During the following decade, Kajima undertook significant urban redevelopment projects in Indonesia and Singapore, thereby expanding our real estate development business. Kajima currently has building construction enterprises in Southeast Asia, including Singapore, Thailand, Indonesia, Malaysia, the Philippines, Vietnam, India, and Myanmar, with Kajima Asia Pacific Holdings (KAP) serving as the holding company.
In 2003, Kajima resumed operations in mainland China by establishing Kajima Corporation (China) in response to China's accession to the WTO. Recently, we have focused on high value-added and technically challenging manufacturing facilities such as pharmaceutical production facilities in mainland China. We are currently operating in Shanghai, Tianjin, Guangzhou, and other regions in mainland China.
In Taiwan, Kajima's subsidiary company, Chung-Lu Construction, is recognized for its technical competence and high-quality construction. Chung-Lu is trusted by many local developers and has built numerous high-rise housing projects for them. We primarily serve Taipei, Taichung, and Kaohsiung.
In Oceania, Kajima Australia Pty. Ltd. (KA) has acquired local construction and real estate development companies and has been engaged in various construction projects in Australia and New Zealand. Kajima Australia group companies also provide construction management services for pharmaceutical companies in the United States and Asia, and theme park-related projects worldwide.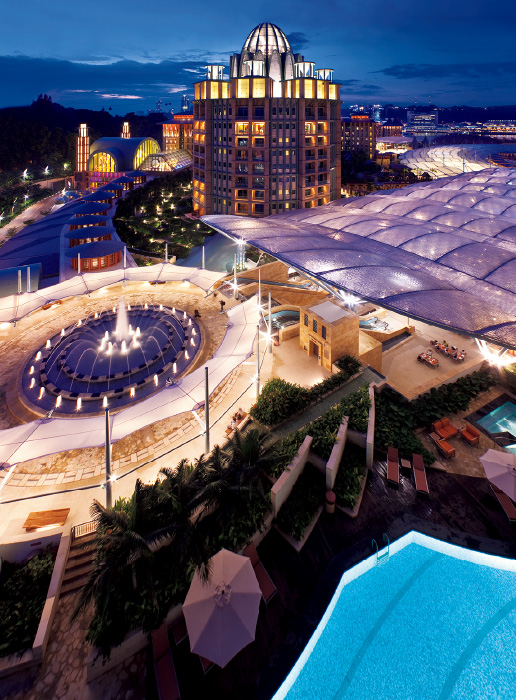 Europe
Kajima's first construction project in Europe in the mid-1970s was located in Berlin, which was then part of East Germany. Building upon our experience in East Germany, we gradually expanded our portfolio of completed projects to include office buildings, commercial facilities, and industrial and logistics facilities in the United Kingdom, France, Germany, Belgium, the Netherlands, and Spain.
However, construction demand in Western Europe began to slow down around 2000. With the shift in corporate investment to Central Europe, we opened new offices in Poland and the Czech Republic in 2001 and 2002.
Currently, Kajima Europe's head office is based in the United Kingdom, and our construction work is concentrated in Poland and the Czech Republic. We are experiencing an increase in construction projects, not only from Japanese companies but also from domestic and international companies. We operate as a construction company rooted in the region, concentrating on designing and constructing industrial and logistics facilities.
History of Overseas Real Estate Development Business
North America
Kajima's real estate development business in North America began with the redevelopment of Little Tokyo in downtown Los Angeles in the 1960s, followed by housing and office development in the 1970s to 1980s. The business gained momentum when Industrial Development International (IDI), established by Kajima U.S.A. (KUSA) in 1989, began developing a series of large-scale logistics distribution centers and warehouses throughout the United States. Kajima also developed resorts such as the Hualalai Resort on the Big Island of Hawaii, which opened in 1996, and the stadium for the San Francisco Giants (now known as Oracle Park). Kajima also provides real estate development consulting services for a fee, specializing in developing resorts and public amenities.
In more recent years, Kajima's subsidiary Batson-Cook Development Company has been developing apartments and commercial properties in the southeastern United States. In 2018, Kajima acquired Flournoy Development Group, LLC, a company that develops wood-framed apartment buildings, and intends to continue its efforts in rental apartment buildings.
The logistics warehouse development business was taken over by Core5 Industrial Partners LLC, which was established in 2015 and developed a short-term revolving business model that develops and leases logistics warehouses in the right locations before selling them to investors.
Southeast Asia and Oceania
Our real estate development business in Southeast Asia began in 1978 when we participated in the development of a hotel project in Singapore (now known as Conrad Singapore Orchard). During the 1990s, we took advantage of the growth opportunities in Southeast Asia and launched large-scale urban development projects such as Senayan Square in Indonesia, Millennia Development in Singapore, and other projects in Hong Kong and Thailand.
Recently, we have been leveraging our experience in Southeast Asian countries to invest in projects such as the Woodleigh housing and commercial complex in Singapore. We also established a joint venture company called Indochina Kajima Development Ltd. to develop the new hotel brand "Wink Hotel" in various cities in Vietnam.
Furthermore, we expanded our operations to Australia in 2015 and have been involved in the development of office and residential apartment buildings.
Europe
Our development business in Europe began in 1986 with the development of offices in London. By 1988, we had partnered with local developers to fully develop office buildings. Later, we expanded our geographic coverage by developing an office building in Germany and the Les Domaines de Saint Endreol Golf & Spa Resort in France. In the year 2000, Kajima started its PFI business in the UK, beginning with the DEFRA Cambridge Government Office Building.
Since 2010, we have expanded our presence in Europe by developing logistics warehouses and student dormitories. Starting from 2021, we have participated in the development of renewable energy power generation facilities in the UK and Poland. Additionally, we've established a rental housing business in Ireland. Our company is currently active in nine countries throughout Europe.