Kajima's Contribution to
Societies Across the World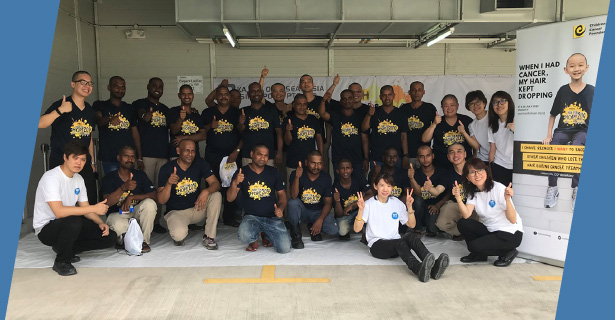 Overseas construction and real estate development projects are deeply connected to the lives of local residents
and becoming an active member of the local community is one of the most important ways to interact and communicate with residents.
The Kajima Group seeks to work as a team to actively contribute to the sustainable development of societies and communities
by utilizing our global network to tackle regional and societal issues.
This section introduces aspects of Kajima's contribution to societies across the world.
North America
In the United States, Kajima U.S.A. (KUSA) operates the "KAJIMA FOUNDATION". The foundation receives applications from KUSA Group companies every year, and, after screening, provides funds to each company for social contribution activities. In fiscal 2019, a total of $27,000 was provided for 27 activities to support the social contribution activities of group companies.
These are specific examples of contributions made by KUSA Group companies.
KAJIMA BUILDING &
DESIGN GROUP, INC.

(KBDG)
In Chicago, we built a food distribution warehouse and office in Schaumburg, Illinois, in support of FMSC (Feed My Starving Children), a project to deliver food to malnourished children in developing countries. By offering construction services at below market price, the completed facilities are able to be rented for less and the savings spent on supplying more food. Food packaging work at this facility is performed by volunteers.
In Atlanta, we participated in the Fashion Fund the Cure Runway by the National Pediatric Cancer Foundation. In this event, children battling cancer performed in a fashion show wearing the clothes of the occupation they aspire to. One boy with a dream of becoming a construction engineer and an employee from KBDG both put on work clothes and walked the catwalk.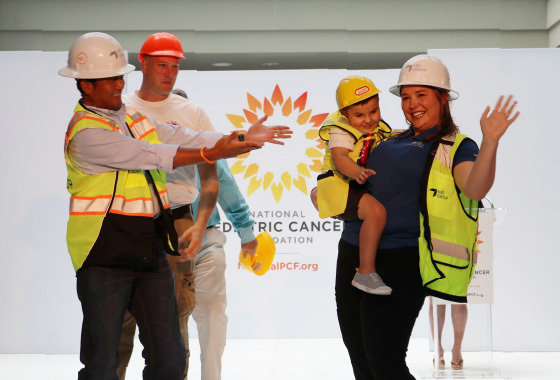 HAWAIIAN DREDGING CONSTRUCTION
COMPANY, INC.

(HDCC)
HDCC supports employees' fund-raising and volunteering activities. For instance, we provide products to March of Dimes (a nonprofit organization that works to improve the health of mothers and babies) and participate in annual fund-raising and walking events like March for Babies. We also provide products and sponsor a variety of Hawaiian charity sports events, such as the Great Aloha Run and Charity Walk Hawaii. Many HDCC employees participate in these events.
Southeast Asia
Each of the eight countries in Southeast Asia where Kajima operates is facing challenges, and we are doing everything we can to help address these challenges. Moreover, in the event of a natural disaster, the Kajima network is utilized to support the reconstruction of each region by helping everyone as a multi-national team.
Singapore
In Singapore, we participate in Hair for Hope (a charity for children with cancer). This charity is sponsored by the non-profit Children's Cancer Foundation and we are building a financial and psychological support network for young cancer patients and their families in order to raise awareness in society about pediatric cancer.
In addition, while construction was underway on a hospital in 2018, we visited terminally ill patients and residents of aged care facilities neighboring the construction site, celebrated the Chinese New Year, and shared many enjoyable conversations and happy moments together.
Philippines
In the Philippines in November 2013, when Typhoon Yolanda (Typhoon 30 in Japan) traversed the central part of the Philippines, we delivered necessities (clothes, blankets, instant noodles, sweets, toys, etc.) to severely damaged elementary schools and junior high schools on Leyte Island that were hit hard by storm surge.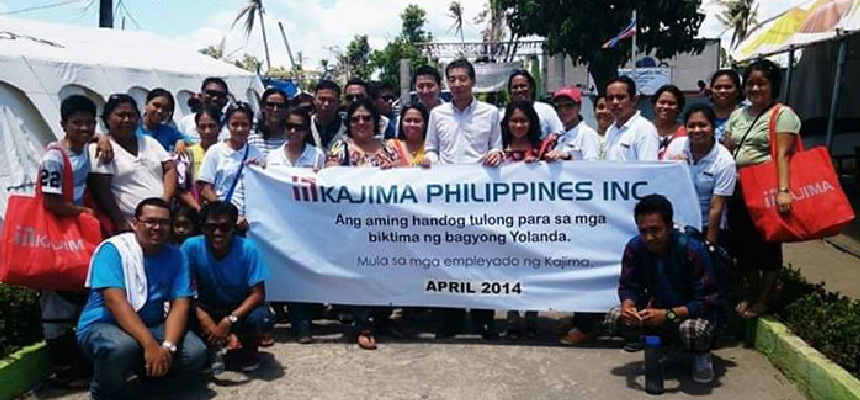 Thailand
The flooding that occurred in Thailand in October 2011 caused serious damage to various parts of the country. More than 400 Japanese companies operating in Thailand were affected by the disaster, and Kajima Thailand immediately established a reconstruction team on the ground to respond to the situation. Kajima Asia Pacific Holdings (KAP) also supported the people affected by the floods in numerous ways.
Kajima donated educational equipment and stationery supplies to Wat Tham Tako Elementary School, and construction materials and sporting goods to the Samor-korn Wittayakarn Elementary School. Kajima also presented the Wat Tachang Elementary School with a photocopier, and donated educational materials, scaffolding, wood planks, a drum set, projector, an amplifier and loudspeaker to the Wat Bang Pung School.
In order to provide assistance for reconstruction and rescue aid and relief to people affected by the April 2015 Nepal Earthquake, KAP has also donated money to the Nepalese Embassy in Bangkok.
Europe
Kajima Europe (KE) participates PFI projects primarily in the United Kingdom. However, the schools and facilities built and operated under PFIs are important not only for education but also for the support function they provide to local communities. Kajima Europe originated from PFI and conducts marketing activities to promote the use of UK schools by external organizations. By engaging with local people and listening closely to their opinions and ideas, we contribute to the local communities in a variety of ways.
The United Kingdom
Kajima Community, which is located in Northampton in the United Kingdom, hires out school gymnasiums and halls to local groups (such as soccer and yoga clubs) and event organizers both after school hours and during school holidays. This project, which makes effective use of public facilities and contributes to the revitalization of local communities, also contributes to the broader region. The Green and Wellbeing Team, which is headed by employees involved in Kajima Community, conduct a variety of campaigns within the company, such as recycling for environmental protection and ideas to improve the health of Kajima employees. Various charity events have also been held and in March 2020, the staff of the Northampton Office all wore sportswear and held a walk-and-run event to coincide with a national charity event. Event participation fees were donated to charity organizations and the team has also used online cloud funding to help those suffering from poverty and illness.
Poland
In Poland, we participate in "Give a bear to a kid" sponsored by the Wrocław University of Science and Technology. This charity event is held for children undergoing radiation therapy at the Maria Sklodowska-Curie Cancer Centre and Institute of Oncology in Gliwice, Poland. Kajima Poland employees donate toys and story books.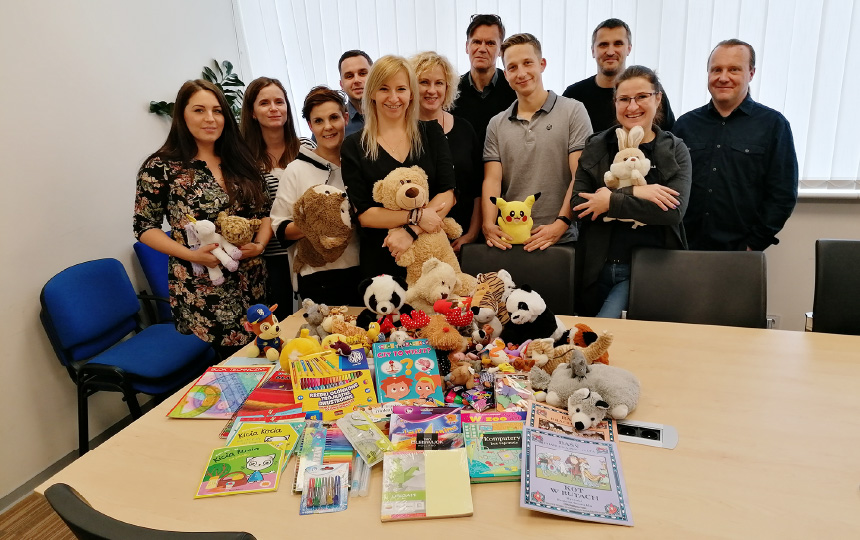 Oceania
Kajima Australia Pty. Ltd. (KA) works with indigenous peoples in the region and strives for sustained mutual development. Australia's indigenous people have lived here for at least 40,000 years, and have their own languages, cultures and beliefs but were unjustly treated for about 200 years. The preservation of the traditions and culture of indigenous people, their coexistence with other cultures, and improvement of their status within the local community has become a social challenge.

Barpa Construction
Barpa Pty Ltd is an affiliate of KA and was established in 2015. It is the largest joint venture construction company in Australia that is 51% majority owned by indigenous people with the remaining 49% owned by the KA Group. Barpa's business is certified by indigenous peoples' associations providing a supplier network and talented personnel from across the country with KA providing architectural technology and expertise in quality control. By fostering human resources through our business and returning profits to indigenous peoples' groups, who are the shareholders, we have built a business model that enables the KA Group to sustain mutual growth and development as a group with diverse social and cultural backgrounds.