Working together with our highly skilled and experienced leadership,
we committed to deliver high quality and high value services to our clients.
We established Kajima Australia (KA) in 2015 to expand its construction and real estate development business in Oceania. Icon Construction is grounded in Australia, New Zealand, and Pacific Islands as the most diverse design-builder in the industry. Icon Developments is a developer and financier expertise with an extensive market experience in Australian and New Zealand. Scenario and Cockram are providing a Construction Management and full turnkey services of theme park facilities in USA and Asia. We all work together with Kajima Group companies globally to build unique platforms and provide high value services.
Company Overview
Company name

KAJIMA AUSTRALIA PTY LTD

Headquarters

Melbourne, Australia
2/110 Cubitt Street, Cremorne, VIC 3121, Australia

Established

2015

Shareholders

100% Kajima Corporation

Number of employees

1,173 employees
Seconded from Kajima Corporation 7 employees (as of June 2022)

Sales Offices

Australia: Melbourne, Sydney, Brisbane, Canberra, Perth, Darwin
Overseas: New Zealand, China (Hong Kong, Shanghai), and USA
Services
Construction
Real Estate Development
Markets
Housing
Offices
Schools
Hospitals
Hotels
Commercial
Manufacturing
Logistics
Data centers
Theme parks
Medical/Pharmaceutical
Sewage treatment
Business Locations &
Service Areas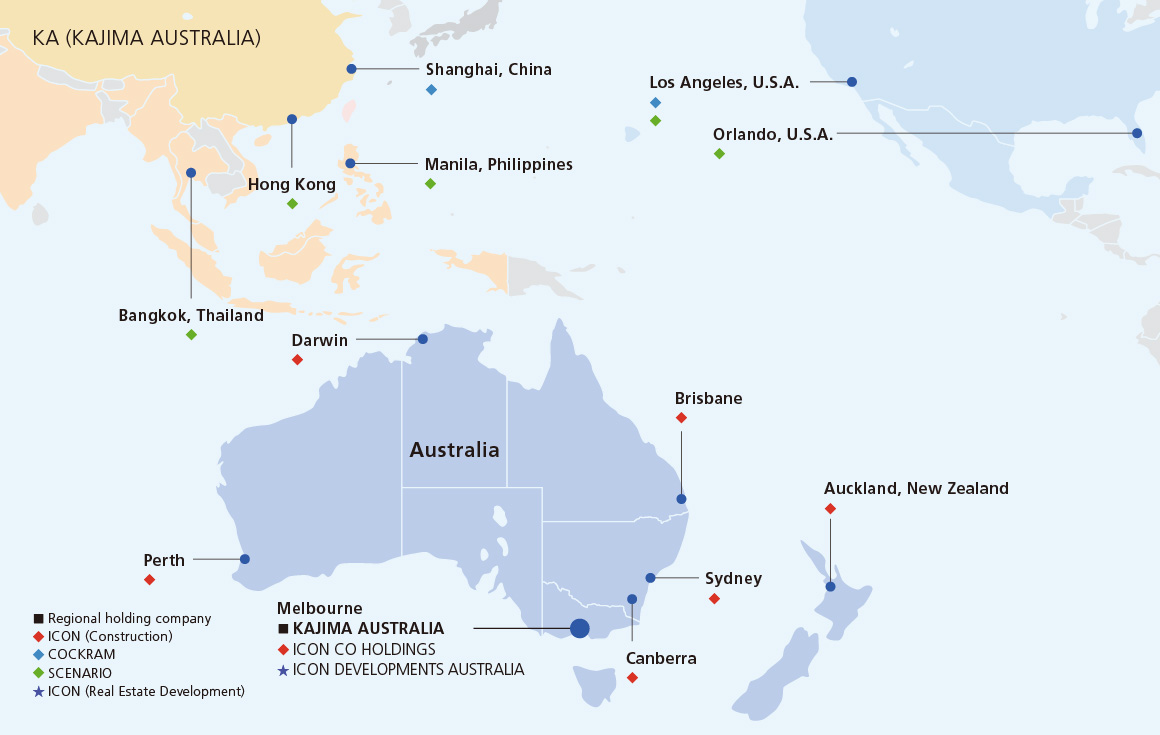 Organizational Structure
Click the link on the organizational chart
Related Information

Videos