Working together with our experienced local partners,
we offer high quality and value-added services
to our clients.
Tatsuru Isano
Managing Director and CEO
After joining Kajima Technical Research Institute, Mr. Isano worked in United State from 2003, also in Dubai, UAE, and Mexico. He was appointed to Director of KA in 2017, then in the current position from March 2022 as KA's Managing Director.
Please briefly introduce Kajima Australia.
Kajima Australia Pty. Ltd. (KA) was established in February 2015, which was followed in April by the majority investment in Australian developer and builder Icon Co Pty Ltd. As part of a growth and diversification strategy, in May 2017, KA acquired Cockram Corporation Pty Ltd, Australia's oldest building company which specializes in the construction of pharmaceutical, aged care, educational, cultural, and manufacturing facilities. In order to create a diversified national builder, the Australian and New Zealand operations of two firms merged under the Icon entity. As Cockram was active in overseas markets, KA now operates not only in Australia and New Zealand, but also in Asia and the United States. Whilst being a major exporter of raw materials and agricultural products as a resource-rich country, Australia boasts a developed economy with tremendous growth potential. KA effectively combines the construction and development capabilities of the Kajima Group and with our experienced locally hired team, provides high-quality, high-value-added services to support our clients' business development.
What are your specific business segments?
Our three primary business segments consist of construction in Australia and New Zealand, overseas construction, and real estate development. In the construction business in Australia and New Zealand, the acquisition and integration of Icon Co Pty Ltd and Cockram Corporation Pty Ltd created a comprehensive structure that enables us to service clients across almost all market sectors. The technical and financial backing of the Kajima Group has also proven pivotal, and the new company "Icon" is making steady progress as the workforce grows and the organization expands. Under the Icon group also sit the Barpa and Minicon entities. Barpa is a majority indigenous owned business that operates primarily in the defence/government estate services sector and Minicon is a business that delivers boutique, smaller value projects under a leaner operating structure.
In the overseas construction business, Cockram is engaged in construction management (CM) of production and research facilities for pharmaceutical companies in China and the United States. And through its sister company, Scenario, we are designing, manufacturing, and constructing artificial rock faces and unique interiors for theme parks around the world. These niche operations are highly regarded by a diverse array of multinational corporations for their expertise and stellar track record.
In the real estate development business, Icon Development Australia Pty Ltd is engaged in the development of apartment and office buildings for clients mainly in Melbourne, Australia. In recent years, the completion of projects undertaken by KA following its acquisition of Icon have been substantial, and we have garnered positive reviews for our superior product planning and high-quality construction.
What are the critical strategies for KA's three business segments in the future?
As an Australian construction company seated in local communities, the Australian and New Zealand construction business is focusing on improving client service, strengthening technical proposal capabilities, and human resource development. We aim to build a stable business platform through ongoing efforts in these areas.
Since some companies are relatively new, the Kajima Group is working to create a system that provides not only financial backing but also sales, technical, and governance support. Besides this, we intend to respond more flexibly and effectively to the needs of our clients by cooperating with Kajima Corporation in Japan and its subsidiary companies around the world, such as Kajima U.S.A., Kajima Asia Pacific Holdings and Kajima China.
In the real estate development business, it can take time from procurement of the site to the realization of profits, but we intend to steadily acquire superior projects while carefully monitoring land prices and market conditions.
What is the KA Group's most valuable asset?
Across everything we do, human resources are our most valuable asset, and we are striving to acquire and cultivate a talented workforce and to improve the working environment. With an assortment of individual and group goals, I believe horizontal and vertical communication is vital. In enabling a working environment where employees are encouraged to act autonomously and responsively, there must exist a trust and balance where feedback and guidance are digested as something constructive and positive.
Business Locations and Service Areas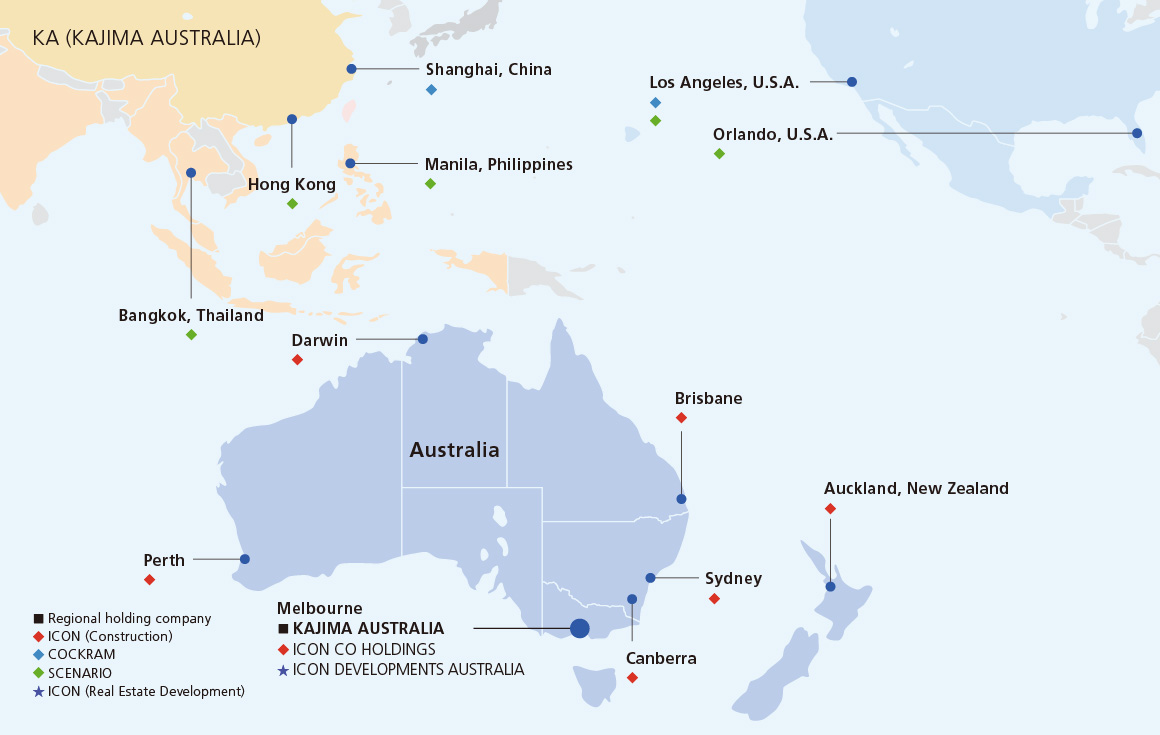 Company Overview
Company Overview
Company name

Kajima Australia Pty Ltd.

Headquarters

Melbourne, Australia

Established

2015

Shareholders

100% Kajima Corporation

Number of employees

1,216 employees (as of January 2022)
Seconded from Kajima Corporation 6 employees (as of April 2022)

Sales Offices

Australia: Melbourne, Sydney, Brisbane, Canberra, Perth, Darwin
Overseas: New Zealand, China, and USA
Links to Kajima Australia Group websites
Services
Construction
Real Estate Development
Markets
Housing
Offices
Schools
Hospitals
Hotels
Commercial
Manufacturing
Logistics
Data centers
Theme parks
Medical/Pharmaceutical
Sewage treatment