Every member of the Kajima USA Group of companies is
encouraged to collaborate by leveraging
each other's strengths.
Motohiro Umehara
President and Chief Executive Officer
Mr. Umehara began his assignment in the United States in 2003 and earned a master's degree from Stanford Graduate School of Business in 2009. Thereafter, he took several positions in Japan, including the Executive Office. Previously served as Managing Director of Kajima Australia, he was appointed to his current position in 2022.
Please tell us about Kajima U.S.A.
We founded Kajima International, Inc. (KII) in 1964 as Kajima's first overseas subsidiary to redevelop Little Tokyo in Los Angeles. KII is the predecessor of Kajima U.S.A. In 1967, KII constructed the Kajima Building, a fourteen-story commercial office building in Little Tokyo, and completed the Hotel New Otani in 1976, which greatly contributed to the revival of the local community and the enhancement of Japanese-Americans' presence in the area. In the 1980s, with the re-entry of Japanese companies into the U.S. market, we established Kajima U.S.A. (KUSA) in 1986 and opened branch offices in New York, Chicago, Atlanta, and Dallas. In the 1990s, the number of construction projects from U.S. companies began to increase, and we began expanding our industrial development business. Since 2000, several outstanding U.S. construction and development companies with unique strengths in specific fields and regions have joined the KUSA Group and as a result of these acquisitions, we have worked to build a group with solid foundations for our construction and real estate development operations by offering high-quality value-added services both in the United States and Mexico.
What is special about KUSA?
The KUSA Group consists of 11 operating companies. Six companies are under engineering and construction, and five companies are under real estate development. Each company works to its own competitive advantages in its respective markets and competes to achieve brand recognition for itself, rather than each working to secure its position within the KUSA Group. This is what makes us special. For example, HAWAIIAN DREDGING CONSTRUCTION COMPANY, Inc. (HDCC) has a history of more than 100 years and has been the top construction company in Hawaii for the past 15 years running.
What is your approach to the business strategies of each company?
We expect each operating company to bring a unique set of competitive qualities to the markets and domains where it operates. For this purpose, each company is responsible for creating its own business platform. On this basis, we focus on creating mechanisms to promote cooperation among operating companies.
What are some specific examples of collaboration among operating companies?
Cooperation among operating companies includes collaboration within companies on the engineering-construction side, such as the exchange of opinions on technology development, and collaboration between companies from the engineering-construction and real estate development sides of the group. Let's look at collaboration between a construction company and a real estate company.
To take one example, CORE5 INDUSTRIAL PARTNERS, LLC., which develops warehouse and distribution facilities, places an order with KAJIMA BUILDING & DESIGN GROUP, INC. (KBDG) to build a logistics facility. To give another example, DEVELOPMENT VENTURES GROUP, INC. (DVG), a commercial real estate development company, places an order for a university building and student dormitory with BATSON-COOK COMPANY (BCC). These methods of collaboration provide an assurance of quality for real estate development companies while ensuring business volume for construction companies.
What is your vision for KUSA?
For KUSA to continue to grow, it is essential for us to expand our business domain. In 2018, we acquired Flournoy Development Company, a specialist developer of wood frame apartment buildings, and divided it into a construction company and a real estate development company. This move created a structure that enables us to independently develop and deliver low-rise apartment buildings. In both the engineering-construction and real estate segments, we will continue to look out for companies that have expertise in new fields of business and domains. I would like KUSA to become a unique business group that top U.S. companies want to join and work with.
Business Locations and Service Areas
Company Overview
Company Overview
Company name

KAJIMA U.S.A. INC.

Headquarters

Atlanta, Georgia

Established

1964

Shareholders

100% Kajima Corporation

Number of employees

1,520 employees
Seconded from Kajima Corporation 41 employees (as of December 2021)

Office Locations

Atlanta, New York, Chicago, Cleveland, Dallas, Los Angeles, San Francisco, Honolulu, Mexico City
Organizational Structure
Central to the company's operations are six engineering-construction companies and five real estate development companies, all of which are under the control of the holding company that oversees business operations and is responsible for business planning and administration. This structure focuses on specific fields and regions by leveraging each other's strengths.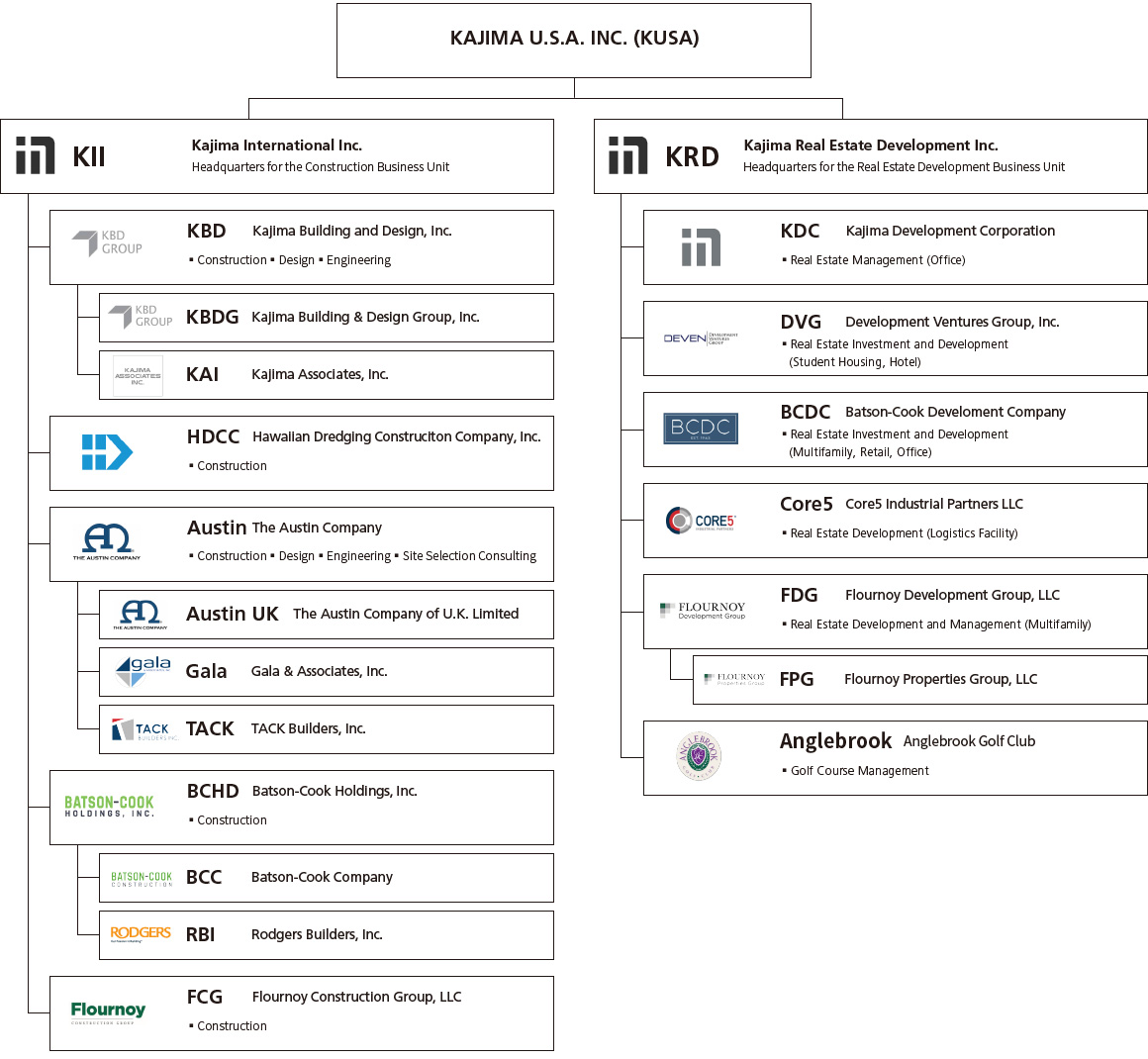 Overview of
each company
Services
Preconstruction
Design
Construction
Engineering
Construction management
Site selection consulting
Real estate development
Real estate investment
Real estate asset management
Markets
Offices
Education
Residential
Hotels
Retail
Healthcare
Logistics/Distribution
Manufacturing
Data centers
R&D facilities
Interiors
Civil engineering (Hawaii)
Related Information

"KAJIMA" Monthly Digest (Japanese language only)